Maps





Many of the above maps, including Dong Tam, Tan An and Rach Kien, were scanned and in the case of the last map, annotated by:
JIM STONE, member of the Romeo Recon Platoon of Echo 2/39, 2/68-2/69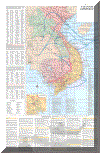 The above map shows North Vietnam, South Vietnam, Laos and Cambodia. It has an index to villages and cities in those countries. Also it shows the major US campaigns that were conducted throughout the Vietnam War. Also included are the US units involved in the VN War and a brief, year by year, history of the war.
Thanks to Paul Kasper for scanning this map.
If you download the map, you will be using scroll bars to navigate the map. Well worth the effort if you want one document that gives a solid overview of the Vietnam War.
The map is a 1.6MB download and if you are using a 56K phone link to the Internet, it will take a minimum of 30 seconds to download it ( and if the Internet is having a bad "hair day", the download will be considerably longer).