Vietnam 2001

On 9 March 2001, Charles Houghton left for Vietnam and the Mekong Delta. Charles served as a platoon leader, 2nd Platoon of Delta Company, as well as Assistant S3, 15th Combat Engineers during 1968 and 1969.
Charles returned to the USA in early April 2001 and we shall post many photos (during May/June 2001) of Dong Tam, My Tho, Ben Tre, Saigon, Hanoi and many other places Charles visited.
Access to the photos Charles took, for the most part, will be posted with the appropriate text segment of his trip reports. See the "Index" below and look for the segments that have "Photos Included" at the end of the selection.



The star indicates Cao Lanh, where Charles Houghton stayed during his first two weeks in Vietnam. Dong Tam is marked in red - look for the red dot. The main road from Saigon (Ho Chi Minh City) to the Delta (shown in orange) that we knew as "QL4" has been renamed "1A".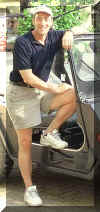 Photo taken of Charles Houghton
taken in Chau Duc during his
trip to Vietnam 3/01.
Although I was in Vietnam at the same time as Charles,
I do not recognize him. 32 years dims the memory.
Click the photo to enlarge

Charles forwarded the following messages to us during his trip.

Index
From Saigon south to Cao Lanh (3-11-01)
Cao Lanh March 14, 2001 (3-19-01)
March 18, 2001-Dong Tam/My Tho Visit (3/20/01) Photos Included
Chau Duc, Ben Tre and Dong Tam, second visit 3/24-25/01 Photos Included
Saigon, Cu Chi and Hue (3/29/01)
Hanoi and Heading Home (4/3/01)

Dear Dick and other members of the 15th Engineers,

The time is here for me to leave for Vietnam. I leave tomorrow
afternoon. I arrive In Saigon on Saturday the 10th. On Sunday I join my
group of volunteers and ride down into the Delta to Cao Lanh. It is near My
Tho and Dong Tam. I will spend two weeks there teaching a group of medical
personnel conversational English. By that I mean They have some background
in reading and writing English but don't know how to pronounce the words. I
guess you could say this is practice. It will be Doctors, Nurses and
Dentists.
I am an Orthodontist now but at one time, during 1968-1969, I was the
2nd Platoon leader of Delta company, 15th CEB. Lt Michael and Lt. Collins
were the Platoon leaders of the first and third platoons and Captain Meeth
was our CO. Sgt. Pelham was my platoon leader and was killed in June of 68,
a terribly tragic and unfortunate event for all involved.
For many former vets, it might seem strange that anyone would want to
return to a place that changed our lives in so many ways and left many of us
still suffering from the emotional and physical wounds that the war brought
upon us.
For 32 years I have managed to put the whole Vietnam part of my life under
wraps and have been blessed with happiness and good fortune. It was not easy
during those early years after returning, but in time it did happen. In the
last twelve months I've been slowing down in my orthodontic practice and have
started to see much of the world by hiking in various places. I guess it was
just a matter of time before I would want to return to that dark place called
South East Asia. Perhaps it is like the moth to the flame, but I feel
compelled to go back.
Timing is a strange thing, ten days ago I got a phone message from
Robert Sage asking if I was the Charles Houghton who was a platoon leader in
the 9th Infantry Division. I responded with a call to him that night. We
talked for about an hour and I got caught up on many of the guys that have
been contacted from the old 15th. It also made me aware two web sites for
the 15th Engineers and the organizations. Since then I've been on line,
looking at all the old letters, pictures, etc. It has been quite an
experience as it has brought me back in touch with old, almost forgotten
friends and comrades. I plan to participate in the groups as much as I can.
Getting back to the trip, I will teach for two weeks in Cao Lanh and then
will visit what used to be our Base Camp at Dong Tam. I will also visit My
Tho and Ben Tre. I will see what used to be Fire Support David in Ben Tre,
where my company went through a bad mortar attack that killed or wounded
several, mostly the infantry pulling security.
While there I will take pictures of anything that might be of interest for
the vets who served in that area. I may not have good access to email while
I am there but will put pictures of it all on the web when I return.
Finally, my last week will be spent seeing Saigon, Hue, Danang, China
Beach, Cu Chi, and Hanoi. Those are places that are very much a mystery to
me and most of the men in the 15th as we were confined to the small area
around the delta.
In closing, I will be spending a lot of time reflecting back on those
days of 68 and the men I knew, the places I was in, and the things that went
on there. By the same token, I hope to view Vietnam as though I was visiting
it for the first time. I will try to appreciate it's beauty and see the
people from a new Perspective. I am looking forward to the whole experience
and am eager to share my thoughts and feelings with others when I return.

Regards, Charles Houghton

Let me begin by telling all that I am (lst Lt.) Charles Houghton, formerly of the 9th Infantry division, 15th combat engineers, Company D, 2nd platoon where I was the platoon leader from April 68 to September 69. On March 8, 2001, I boarded my flight from Roanoke, Virginia to Saigon, a 36 hour flight. I arrived on Saturday, the 10th of march, after crossing the international date line. The following are some of my observations and thoughts as I came back to Vietnam.
Flying into Vietnam, I crossed the beaches and rice paddies east of Saigon while on final approach to what was formerly Tan Son Nhut Air force base. After touchdown, we taxied to the terminal. As I looked out the window of the plane, I guess I expected to see everything as it was when I arrived in 68. I was sure, in my mind, that I would get off the plane and walk through the old Quonset hut terminal. Needless to say, things have changed. The old berm, concertina wire, and bunkers are now nearly gone. In fact, only here and there do you see remnants of what was the berm. There were a few old Quonset hut type hangers, one with a faded peace sign painted on the side, no doubt by some former GI. Today, the hangers are no longer in use. No choppers, no fighters, just overgrown grass all around them. I departed the plane into a modern air-conditioned terminal and passed rapidly through the government customs and emigration. Once outside, it was evident that the heat and humidity remains the same as
it was in 68.
As I am here on a volunteer basis with and outfit called Global Volunteers, I was greeted by their representative. I got into a taxi and proceeded to the Rose Hotel in downtown Saigon. After some conversation with the taxi drier, he told me he was a former South Vietnamese navy man who was a gunner on the PBR's (gun boats) out of Ben Tre. He was on the boats from 1971 to 1975, part of the Vietnamese Navy that replaced our own brown water sailors who had patrolled the Mekong Delta. For those who don't remember, BenTre is across the river from My Tho and very close to Dong Tam. We engineers used to cross the BenTre ferry to get there. His comment about BenTre was "many, many VC" He only talked when we were alone and told me he was my friend. He wants to take me back to BenTre, where he grew up, to show me some of the old familiar military areas. Perhaps I will. Later in the afternoon he took me for a ride around the city. His name was Mister Ba.
Here are my thoughts, impressions and observations from my drive into Saigon and a walk around the city. First, the traffic. It is still congested with a never ending wave of motor bikes. The difference now is that they are modern, four stroke engines and consequently the old smoky, polluted air is now relatively clean and clear. It is still a disorganized mob scene with everyone blowing their horns.
My hotel costs about 18 dollars a day and while not up to US standards, is clean and air-conditioned. The lady at the desk asked if I was a Vet and I told her I was. She told me her father was a former VC who was captured and spent four years in the POW camp He had been shot in the chest by helicopter fire. Now, you might expect that she would feel or show some hostility toward me as I was a former American soldier here. She didn't. She said it was something that happened in former days and that now Vietnam and America were becoming good friends. She went on to say that all Americans and Vets are very welcome here in Vietnam. I believe she was sincere in what she said and that it reflects how the vast majority of people here now feel. Bear in mind that since the American departure, the Vietnamese were at war with China and the Khmer Rouge in Cambodia for nearly ten years
A walk around the city revealed a rapidly changing culture. It could be any modern Asian city with people dressed in jeans and t-shirts. Western influence has really taken hold in the last ten years. The single most noticeable thing about it all, the one that was the most bewildering to me, is the total absence of anything of a military nature. No army vehicles, no armed soldiers, even the police are unarmed. I am amazed that I have had absolutely no sense of danger or anxiety at all. This is a surprise to me. As for the people, I have seen no evidence of any animosity toward Americans at all. There are no people staring at me as I walk around the city, only an occasional smile. It seems that since the war, they have moved on with their lives better then we former vets have. Once again, I am very much surprised at how comfortable I feel here.
Well, those are my initial impressions of Saigon. I had only been there one time in 69. Consequently, other than seeing the old presidential palace, the Rex Hotel, and the location of the old American Embassy (now torn down), it was almost as though seeing it for the first time.
On Sunday I will travel by van down highway 1, into the delta. My destination is Cao Lanh, a city of about 100,000 people, about 100 Kilometers past MyTho. That is where I will be staying to teach English to Medical personnel for the next two weeks. This evening I will be going to a restaurant on the river front with the rest of my group. I'll pick this up again when I get to Cao Lanh.

From Saigon south to Cao Lanh - 3-11-01
Let me begin by saying that this is the second time I am writing this entry into the journal. Yesterday I spent an hour of writing and editing, only to loose it when it was time to send. The internet service here in the delta is not the most reliable. In any event, I'll try to recount what I wrote previously
On Sunday morning, March 11, 2001, I awoke in my hotel room in Saigon. The night before I had joined my group and we walked to the Saigon River front for dinner. Our Restaurant was an open air establishment that is located right next door to what was formerly the US Navy headquarters compound. Today it flies the flag of Vietnam (The former NVA flag} While in Vietnam in 68, all of my meals consisted of army mess hall chow, C-rations or LRRP rations when I could get my hands on them. I never got to try local foods. So, it was with great interest that I got to experience the meal I had that night. I gotta tell ya, it was fantastic! It consisted of a variety of fish, pork, chicken, fish and numerous unidentifiable vegetables and fruits. There was also the ever present rice and noodles. Everything was prepared in ways that I have never seen or eaten. It was a real gastronomic adventure.
On Sunday Morning we left Saigon for the Delta. It took a long time to get outside the Saigon city limits. This city has definitely grown since 68. The road is well paved now and all the way down to MyTho it is essentially one long strip of commercial buildings and shops. High tension power lines parallel the highway just like in the real world. In 68, Hwy 1 passed through what, at the time, was mostly an agricultural area. Rice paddies were on both sides of the road interspersed with the occasional small cluster of small hamlets or hooch's and small road side stands Of course in 68, the rice paddies and adjacent woodlines were good cover for the VC. Not so today. Gas stations, homes, and a multitude of small privately run concessions line the highway on both sides. Here and there you see the government operated construction and manufacturing facilities that are still very much of the old socialist system. About 12 years ago, the Government started to open the doors to a market economy and it's presence is very much apparent as you look around.
Everything has changed here. The first familiar place I came to was the Ben Luc bridge site. It is all new, solid concrete and wide enough to be 4 lane. The old bridge is gone. No outposts nor bunkers at either end of the bridge; No soldiers pulling security: No sounds of shots being fired into floating vegetation in the river is search of sappers; No grenades being dropped from the side of the bridge to see what floated up from the concussion; Not a sign of anything of a military nature. The old bridge that the VC sappers used to blow up on a regular basis and the one which we engineers used to repair, is now gone.
The bridge at Tan An was also new. However, the old French built, steel bridge parallels the new bridge and serves pedestrian and bicycle traffic.
Around noon, we had lunch in a restaurant on the side of Hwy. 1 in MyTho. Again, I did not recognize where I was. After lunch, we continued south on Hwy.1 for a short distant and turned onto ,what I believe is, Hwy. 30 and traveled west to the city of Cao Lanh. We arrived there around four and checked into our hotel.
(Webmaster's note: I have asked Charles to clarify the reference to Hwy 1 and being in My Tho. QL4 was the main road from Saigon to My Tho in 1968 and it did not go into My Tho. My Tho is on the Song My Tho (river) so you can only head south by boat. North of My Tho, QL4 turned west for 60 clicks (FSB Moore - Cai Lay was about the half way point) to the river crossing point, near Vinh Long, and then continued south.)
Strangely enough, directly across the road from the hotel is a large memorial to the VC who died in the war. I have since walked through it and have taken pictures. It is located on about five acres and is beautifully landscaped with a large lily pond and ornamental plants. In front of it is a statue of four people. The first is an NVA soldier in a lunging assault stance thrusting his AK 47 Beside him is what would have been a black pajama clad VC, throwing a hand grenade. A woman stands with her arm around a flag and a farmer stands next to her with a hoe in has hand, rice at his feet which I presume signifies the work of the peasants who fed the cong. At the rear of the memorial is a large clam shaped structure rising about a hundred feet into the air. Depicted on the structure are the classic communist symbols of a star on one side and the hammer and sickle on the other. Surrounding the memorial are the graves of about 3100 dead VC. Each grave has a marker depicting the name of the deceased and in some cases the year in which they died. It was interesting for me to seek out the years of 1968 and 1969. 1968 was well represented as that was the year of the Tet offensive. It is a little strange for me to be walking through a VC memorial, but, I guess as the victors, they get to honor their fallen soldiers as we honor ours at Arlington. Of course there are no memorials for the south Vietnamese who gave their lives. It is very evident that the communists put forward a lot of effort and money to build this memorial in l977.
Well, that pretty much sums up the events of the day. Some thoughts and observations: I am really taken by how much things have changed here in Vietnam. I was most interested to see an old US Army dump truck, a jeep, a grader and a wrecker, all in their original OD paint. I also found the parts to a Bailey Bridge in a yard across from the hotel. I have photo's. But, so far I have to look hard to find any remnants of the US Army presence during the war. On the surface, the country appears relatively prosperous, by third world standards, and is rapidly entering the contemporary global economy.. Nevertheless, while superficially things look prosperous, I cant help feeling that when I get out into the "boonies", where we all spent out time, I will find things very much the same as they were when we were there.

Before I begin, I need to say that I am having extreme difficulty in getting email in and out of Cao Lanh. Some of it gets to one of several addresses but not to others. I am also loosing personal letters that show they have been sent, but it becomes evident they are never received. It is all very frustrating as I am spending a lot of time rewriting and resending my mail. I have written full days entries in my online journal, only to loose it when it comes time to send. There is always a wait to get to one of only two computers here in Cao Lanh and the pressure is on to get off as others are waiting. I hope it will be better when I get back to Saigon a week from today. In any event, I will write this as it has been entered into my journal even though it is being sent a few days late. Finally, there is no spell check on this thing so please forgive the poor editing.
On Wednesday, March 14, 200l, I noted the following in my journal:
Today I've had an opportunity to walk around this rapidly growing city of 100,000 people. The main street is virtually brand new in the last ten years and the commercial sector runs for about a mile. On one side of the street, all buildings are governmental, run by the communists and are very attractive and well maintained by western standards. In fact, the architecture is beautiful, some contemporary in nature, others colonial looking with tall Pillars. They are typically multistoried buildings and all would be considered "upscale" in L.A., New York, or any American city. On the other side of the street are the buildings built by non governmental enterprises and contain a multitude of vendors, stores and all the things you would expect to find of a business nature. There is a stark contrast between the two sides of the street. The commercial side is functional and built with utility in mind rather than esthetics. No grass, no ornamental gardens, etc. It is evident that first priority goes to the government needs.
Once you leave the main street everything returns to the poverty stricken appearance of the Vietnamese cities we knew. The buildings are in a sad state of disrepair and are dismal. As in America, there are some areas that are better then others. You see small Karaoke clubs serving beer and coffee here and there on the avenues coming off the main street. As you get away from "the strip", you come to a canal along side of which lies the City market area. It is the traditional looking Vietnamese market with live chickens, ducks, rats and fish. There are multitudes of vegetable and fruit, many of which I am unfamiliar with. You can smell the stench of many people co-mingled with the odor or fish, fresh cut meat, and everything else that you would expect to smell in a humid open air market. It is crowded, of course, and is covered by many blue plastic tarps. While the Vietnamese can walk erect, at six ft. three inches, I am constantly stooped over.
After leaving the market and crossing the canal, I came to the old dirt streets leading to pathways that carry the people into what might be called "shanty town". This is what we all knew in '68. The only thing that strikes me as extremely different is that now, all these little houses are electrified and have a TV antennae on the rooftop. Can you believe it? They have televisions with remote controls! You can still recognize the smell of incense mingled with the odor of smoldering coconut shells burning in their little stoves as they prepare the next meal. People are still washing their clothes and bodies in the canals that run throughout the city. Everything appears so much the way it was before.
While ambling along, I came across what appears to be a small military museum. Outside, in a thicket of overgrown weeds and trees, were a helicopter (slick ship), a 105 howitzer and an old American fighter plane, I think a Saber jet from the Korean war era. I will try to return to the museum to see what lies within it.
Little observations: I see no one wearing glasses. A pupil of mine put mine on to look through and pointed to himself saying "Harry Potter"; I was amused to know they new about Harry Potter. Also, I do not see any of the old men dressed in the old traditional dress of loose fitting pajamas, conical hats and donning scraggly looking beards. All the old men in this city are dressed in western style clothes and rarely do I see a beard. People continue to be very friendly and I feel no sense of danger as I walk around at any hour of the day or night. It is different in Saigon of course. An analogy might be that we would not venture into certain high crime areas of New York City (Saigon), but would have no reservations about wondering around in a small Midwestern city (Cao Lanh) of 75,000 people where violent crime is almost nonexistent.
Well, that wraps it up for today. My next entry will be after I go to MyTho, Dong Tam and Can Tho this weekend.

After leaving Dong Tam, I continued south toward Can Tho. It was essentially more of the same congested traffic. One thing of major significance is that there is a new bridge that replaced the ferry going into Vinh Long from the north. It was a joint effort by the Australians, who carried 66% of the cost, and the Vietnamese Government, who Picked up the remaining 34%. It is the longest suspension bridge in Southeast Asia and is truly beautiful. I have a post card and a couple of pictures for later. It was opened last April on the 25th anniversary of the reunification of Vietnam. It was a massive sea of people walking across it. If you think about it, it was the highest any of the locals had ever been above sea level as it is probably about 200 to 300 feet over the water. The ferry into Can Tho from Vinh Long province is still running and is the only way to get to Can Tho.
Can Tho was a city I only visited for one night so it is hard for me to appreciate what it might have been. Today it is the second largest city in VN after Saigon, to be followed by Hanoi. I stayed in a new hotel at the intersection of two rivers where a navy base once stood during the war. There is a beautiful park there now with a large statue of "Uncle Ho". He is viewed by the South Vietnamese as a national hero in spite of his communist ways. They respect him for driving out the French. They say he never intended for the people of the south to be treated as second rate citizens after reunification and, had he lived, the abuses would not have happened. Perhaps, but I find this questionable.
I should mention here that the Ben Luc Bridge and the Tan An bridges were built about five years ago with American dollars and by Americans. They have really helped out here as they were a real bottle neck for traffic going into and out of the delta.
There is not much else to write about other than some political information that I got from my guide. It relates to post reunification Vietnam and how the south was treated by the north. I will hold of on that dialogue for now and try to compose something at the end of the journey. It is most interesting and informative however, and I am eager to share it.
I will write again after my weekend trip to Ben Tre.
Until then, C.W.

Thursday, 3/29/01
This morning after a five o'clock wake-up, I left Saigon for Hue. I arrived at Phu Bai airport, just outside of Hue and was greeted by the old Marine barracks that are across the road from the field. They are now occupied by the VN Army as most other significant military instillations are. The old concrete bunkers that served as guard posts are still present along the side of the road. I tried to photograph them but as usual, my guide would not allow me to do so for "security reasons". I checked into my hotel on the Perfume River from which I can look across at the famous Citadel of Hue.
In recounting the last days, let me go back to Saigon. Yesterday I started the day by visiting the grounds of the war museum. The museum buildings are surrounded by a collection of tanks, artillery guns, helicopters, aircraft, APCs and every other piece of significant war machinery that we used during the war. Inside there are numerous American small arms and ordinance to include an M-16 rifle, an M-79 grenade launcher, a LAW rocket launcher, an M-60 machine gun, hand grenades, mortars, etc. All very familiar Aside from satisfying my curiosity about the weapons, I was a little upset to see the photo's on the wall. They were a collection of very selected pictures showing the horrors of war, All were captioned in such a way as to indicate that all American soldiers were wonton murderers who wanted only to kill and torture anyone they could find, including innocent civilians. By and large, the museum is set up to grossly distort the truth and to promote the glory of the Communist revolutionaries. Those veterans who were there know that although isolated and ugly things did happen at the hands of the American soldiers, they didn't begin to approach the widespread abuse with which the Vietnamese soldiers of both sides treated each other and the civilian population. Oh well, I wont get into it but it did raise my hackles. In any event, about half way through a propaganda movie on the war, I got up and left in disgust and anger. You can only hope that other international tourists are able to see through the deception. Such distortions!
After the war memorial, I drove to Cu Chi to see the VC tunnels there. During the war it was in a free fire zone. Apparently there are about 250 KM of tunnel networks going throughout the area. The VC used to engage the US soldiers, then duck into the tunnels and escape. They were just large enough for the small bodied VC to crouch down and run through, but to small for the Americans to get into. It proved to be very effective. They let you crawl around in some "oversized tunnels" built for the tourists. I crawled through them and I've got to tell you that at six foot three inches, two hundred pounds, and with a bad back, it's a bitch. It is hot and humid in them and frankly, it is difficult to imagine living in them. No doubt about, the VC had it rough. We had a lot of ill feelings toward them, but they also held our respect for the conditions they lived and fought under.
Probably the most amusing thing that has happened to me on my trip happened at the Cu Chi Tunnels. I was sharing my tour with a group of traveling American college girls who were on a world cruise as a part of their curriculum. After the tunnel experience, we were all invited to a firing range, where for one dollar per bullet, you could fire any number of rifles. There were M'16's, AK-47's, Thompson submachine guns, old WW II 30 cal. carbines, and an M 14. My initial thought was "bullshit", no way in hell am I going to pay a buck a round in order to shoot a rifle. Most of the girls, having never shot a gun before, went ahead and did it and it was at their coaxing that I agreed to do so as well. I bought two rounds and fired the M-16 on full auto. How strange of me. I jokingly told the girls that had I been paid a buck for each round I had fired in the war, I'd have enough money to pay for my trip with spending money left over. Well, that's certainly a big stretch! - but they seemed to enjoy the humor and probably believed it. They had lots of questions for me as you can imagine. None were alive during the war and consequently they know little about it. In spite of that, I was happy to know they were all well aware that the local Communist government was "very reckless with the truth" in presenting the "facts" surrounding the war.
I finished the day back in Saigon where I visited the old presidential palace, renamed "the reunification palace" in 1975. On it's grounds is the first Russian made tank that crashed through the gate when the South Vietnamese government finally surrendered at the palace. Today it is open to the public and retains all the furnishings that were there when President Nguyen Van Theiu was occupying it.
As for today, in Hue, I visited the Citadel where there was fierce fighting during Tet of 68. The VC took control of the unoccupied fortress as well as the city. They rounded up over three thousand local government officials, business people and many other undesirables, and executed them during about a three day period of time. The Americans were called in to drive the VC out and 26 days later, after many casualties, succeeded in doing so. It received a lot of news coverage and was instrumental in turning the American public against the war. As I walked it, I saw countless old bullet pock marks on the old brick walls. I could only imagine what it must have been like for our soldiers in 68. As you see it, it appears to be impenetrable.
Well, that's it for now. Tomorrow I go to Da Nang and on to Hoi An for a couple of days of R&R. I've been traveling a lot and need a day to kick back. I might mention that the terrain is very mountainous here and totally different from the delta. Consequently they fought a different kind of warfare than we did. I was talking to a guide in Saigon who told of his South Vietnamese Army veteran father. Apparently he was an officer in the Saigon area. He told his son that he used to tow the line as his superior used to threaten to send him to IV corp area (the delta where we were) if he misbehaved. The guide went on to say that, at least for the Vietnamese Army, it was the most dangerous area in the country to serve in because of the density of resident VC, Interesting.
My next and probably last entry will be after I visit Hanoi. Until then,..........

Hanoi and Heading Home (4/3/01)
As I write it is about eight AM on this, my last morning in Vietnam. Last night I enjoyed my last incredible Vietnamese dinner in one of the local restaurants. This morning my mind is muddling through the cloudy aftermath of last night's unshared bottle of Australian cabernet. I don't recall leaving anything n the bottle for pillaging by the locals after my departure. So, if I'm a little inarticulate this morning, I've already built in my excuses.
Upon arriving in Hanoi I was met by my guide and driver who brought me into a beautiful city, landscaped with tall trees, lakes and parks. It differs from Saigon in that it is a slower paced, more laid back and congenial city with well preserved French colonial architecture and many fine restaurants. The people seem to be less intense and more laid back. This is at the expense of being less successful economically than it's sister city of Saigon. The income here is about one third of that in the south. Apparently the southerners are more in tune with the workings of a "market economy" (a politically correct term for capitalism which, in this country, is a four letter word). There is less noise and pollution here and a noticeable absence of all the endless southern Vietnamese billboards that promote the communist message. Apparently the south is still very much in need of "re-education".
My first tour was to the tomb of Uncle Ho. I queued up in a line of several hundred people and got a brief viewing of the revered Vietnamese leader. The mausoleum reminds me very much of Lenin's in Moscow's red square as i viewed it several years ago. No doubt about it, Ho Chi Minh is a national hero in both the north and the south. In the south for kicking out the French and in the North for also leading the way to reunification. People in the south say that Uncle Ho would never have allowed the government to abuse the southern people as they were and continue to be since reunification.
I should take a quick moment to tell of my guide. He is the son of a former VC general who fought in the South for fifteen years. Thien met his father for the first time after he returned from the war in 75. Touching for me to imagine. In any event, I got a lot of dialog from Thien relating Vietnamese history from the communist party's point of view. Of course I could easily have taken issue with many of the "historical facts" that have been created by "the party", but instead, I just politely listened. After spending four days with Thien, I have grown to like him and trust him. I see him as sincere in what he believes in and understand that it reflects the very biased, unchallenged Vietnamese communist philosophy that has been taught to him. Of course, I take great issue with his view of history as I know it. In any event, it has been interesting to hear "the party line." I might mention that of roughly 80 million Vietnamese citizens, only 2 million are Communist! party members and are thus eligible to participate in the running of the government or able to hold government jobs. As I mentioned before, the communist party is a closed society and membership is difficult to acquire unless you have a legacy. Thien is a party member and contributing writer to a local newspaper.
After visiting the city of Hanoi, I traveled to the coastal city of Ha Long. I spent a night there and took a five hour boat ride into the famous Ha Long Bay in which there are over 3000 beautiful limestone mountains rising vertically to heights of several hundred feet. Each island is covered with lush vegetation and many contain beautiful caverns. It is a UNESCO world heritage site and as such is a protected park.
I returned to Hanoi on Tuesday night and spent Wednesday driving north east and into the mountains. I visited some of the hill tribes there and got numerous photo op's.
My overall impression of the north is that it is probably much more traditional then the south. Unlike the Mekong Delta, the Red River Delta of the north is less productive in terms of rice production. It is far less congested and considerably less densely populated than the Mekong Delta. I should mention that after reunification, the government "encouraged" the northern farmers to abandon their ancestral homes in the Red River Delta to join the Mekong Delta cooperatives. Consequently, with the relocation of the farmers and the trusted political cadre from the north, there was a large and rapid increase in the Southern population.
Well, that about wraps it up for me here in Vietnam. I will return to my room now, take a shower, pack my bags and depart for my three PM flight to Hong Kong. I expect to arrive back in Virginia after a 36 hour flight. Once home, I will compose one last entry into my journal and will reflect on these last four weeks in Vietnam. As I leave here, it is with an appreciation for what Vietnam is today; A beautiful country of very friendly, forgiving and hardworking people who view their history in different ways but who look to their future with o optimism Some look for the new market economy to carry them to future prosperity while others look for their affiliation with the "party" as their conduit to success. One thing is very evident, by necessity, they are all focused on what will be and not on what has been. We can learn from them.

As I write this I am in Hong Kong with a five hour layover. Consequently I thought I'd write a little to pass the time away.
On leaving the city of Hanoi for the airport, I passed through the old district with it's narrow streets and busy commerce. My driver was accompanied by a different guide from the travel agency and whom I had no previously met. He was a sharp contradiction from my previous guide. I believe I understood him correctly when he told me that his father was a former RVN soldier who was wounded in 1971 and carries the scars from napalm. I don't quite understand how he got into napalm but I didn't pursue it. In any event, this guy is very pro-democracy and very well informed on American politics. He wanted to know how I felt about Clinton's pardons and misappropriated furniture. I was quite surprised at how much he knew about current American events. He was an enthusiastic advocate of democracy and complained about the current Vietnamese system of government. I could only agree with him. It was refreshing to talk to him after my experience with my previous guide. Our conversation was cut short by my
arrival at the airport in Hanoi. We both expressed regrets at not being able to continue our talk as I departed.
It was interesting for me to see the Hanoi airport. You would think that as the capital city of Vietnam, it would have a stellar facility. Not so. The terminal is old, with torn curtains shading dirty windows. There is an old bus that takes you from the terminal to the airplane where you climb the usual portable stairs. I should add that there will be a new terminal shortly, it is currently under construction.
As we taxied for takeoff, we rolled past a line of Russian MIGs, nestled two to a hanger, and surrounded by blast walls. There was a concrete fence surrounding much of the airport facility and guard posts were evident here and there. The runway is in apparent need of repaving as we had a lumpy, bumpy, rollout on takeoff. On climb out I looked down on the lush green of the ricepaddies until they disappeared as we hit the base of the clouds. That was my last glimpse of Viet Nam.
Earlier in my journals I mentioned a conversation I had with a former officer of the RVN army. Mr Ba was an interpreter with the American advisors from 1960 until they left in 1975. He had formerly been superintendent of the Dong Thap province school system and had over 6000 students under his domain. At the end of the war he was sent to a re-education camp for what I recall was one year, and then on to a rice cooperative for another five years thereafter. He was finally returned to a teaching position in the Cao Lanh school system as his poor health had become an issue. He told me that, at the end of the war, many former officers were detained in the re-education camps for as long as 8 years, and that many were simply never heard of again. You can draw your own conclusions as to their fate.
In any event, I was most touched by my very private conversation with Mr Ba. He very accurately related to me the growing malcontent that the American public had with the war after the 1968 Tet offensive. He told me that American mothers no longer wanted to send their children to die in a foreign country, located halfway around the world. He went on to describe the U.S. military efforts to turn American combat responsibilities over to the RVN army, know as Vietnamization. Obviously, Vietnamization was a failure as the South Vietnamese Army essentially surrendered to the North without putting up even a token fight when the tanks came rolling through the DMZ in violation of the Paris peace accords. He said that since the war, Americans mothers have felt that their sons had died in vain. The touching thing for me, the thing that brought tears to my eyes, was that he said that Americans can be proud of their role in Vietnam during those years. We fought bravely for the Vietnamese people and that in the south of Vietnam, it is very much appreciated by the people, even today. As a result of the American presence, the south Vietnamese are knowledgeable in the ways of a free market system and are now beginning to move ahead of the government cadre in terms of economic prosperity. He went on to say that the Americans taught the south Vietnamese how to be "resilient". They learned how to evaluate the difficulties that they were confronted with and knew how to react to adversity. They always bounced back and moved on. This is in contrast to the North Vietnamese who know only how to follow the rules of the system. While very disciplined, they apparently are not resourceful. One last comment Mr Ba made was that his family in the north confides to him that they, and others like them, look to the south to one day set the direction for the country. They await the day when the Communist structure collapses. Mr. Ba says it will happen in time. Perhaps-probably.
Oh well, maybe this was all just lip service for a sentimental, former soldier, but I don't think so. If it was, it was effective, as Mr. Ba is one of the few who has ever expressed gratitude and appreciation to me for the time and sacrifices I, and others like me, made as a soldier in Vietnam. I was deeply touched, as I hope those of you who served will also be, on hearing and reading this.
Well, that pretty much wraps up my conversation with Mr Ba. He is retired now and supplements his income by teaching English. He is "the man" in Cao Lanh when it comes to English pronunciation, and as such, is treated with much respect. In spite of that, he was most cautious in discussing things with me, picking an isolated place where "the supervisors" could not overhear. He requested that I not write of our conversation until I left Vietnam as, even today, it could cause him great difficulty if it got into the wrong hands.
My last entry will be, as I said, when I get home. I will review my notes and throw out some tidbits of information in a helter skelter fashion as I remember them. I will also post my photo's on the website when I get this digital camera figured out. I plan to attend the Kentucky meeting of the MRF in June and will show slides to any that are present and interested.
Now then, lets see if I can go broke saving money on electronic goods here in duty free Hong Kong.

I am writing this final entry from my Blue Ridge Mountain home in Roanoke Virginia. Today is an important day here in Virginia, the opening day of spring turkey season. I stumbled out of bed at five AM and did a forced march up one of the nearby mountains in search of one of the local mountain monarchs. At seven thirty, thunder rolled out of the barrel of my shotgun and a nice fat gobbler tumbled down a mountain ridge. It is nice to be back home.
In returning from Vietnam, I arrived in Roanoke on April 5th at nine in the morning. I made it through the day but went to bed in a stupor around eight that night. It took about a week to get over the jet lag.
I am going to conclude this series of journal entries by starting out with a disjointed series of little "verbal snapshots." While in Vietnam, I carried a little tape recorder with me most of the time and just recorded little thoughts or interesting observations as I saw them. I will now edit that tape and write them down as they come off the tape. Please understand that this is a disorganized mess and probably suggests that the author has a confused and often sick twisted and demented mind. I have no excuses. Here we go:
The main mode of transportation is the motorbike. You see three to four people on one at a time. There are no traffic laws that are taken seriously and traffic patterns are helter skelter. Passing into oncoming traffic is the norm and he who drives the biggest vehicle has the right of way.
Women in Southeast Asia place a high value on a light colored complexion. Consequently, you see many of them wearing long gloves that go up to their shoulders as well as a scarf wrapped around their faces and of course hats on as well. They do not want any exposure to the sunlight. It was also interesting to discover that for a new Honda "Wave" motorbike, made in Japan, it costs 2500 US dollars. The Chinese have copied, almost to the letter, this same Honda, but of course sell it under another name. In essence, they stole the design from the Japanese, cloned it, and sell their bikes for around 500 US dollars. I was told that the Chinese bikes are significantly poorer in quality than the Honda's but obviously a lot more affordable. Sounds like they are beating the Japanese at their own game. The Vietnamese buy the Chinese bike, remove the decals from them, and replace them with Honda decals as the Honda brand name carries a lot of Status. Interesting and amusing. Obviously, there are many more Chinese "knock off's" than real Honda's.
Vietnam still has the biggest cockroaches I've ever seen. About two and a half inches long, five if you count the antennae.
Even in the cities, roosters are crowing around the clock.
You rarely see a gun anywhere
In the south of Vietnam, especially around Saigon, you see most young people wearing jeans and T-shirts. In the smaller cities in the south you do see the Ao dais, the traditional dress that is split up the sides to above the waist and covering sheer pants. Most of the school girls, and some young women, in the South wear them. Yes, the ao dai's still make the girls look very pretty and feminine and complement their long black hair, clear complexions, and smiling faces. The Vietnamese tend to be pretty shy
initially but as I came to know my students, both men and women, they all opened up and were good natured and fun loving. It was wonderful to hear them laugh so easily. Rarely in the south do you see the old white and black pajama's, however, in the North they continue to be the typical dress. Also, in the North you see a lot of the old olive green shirts and pants similar to those worn by "Uncle Ho" and the NVA soldiers, especially in the countryside. They are of course made by the communist owned and operated textile mills and are probably the cheapest clothes to be had. I think they are "going out of style" along with the rest of the communists.
There is rampant dental caries (rotten teeth) throughout the country. Dental services are pretty much limited to extraction's. If you have some extra money or are a communist party member, fillings and crowns are available. As an orthodontist, I was interested to see the hospital dental clinic. It was extremely primitive, and equipment reminded me of what you would have seen in the American dental office in the nineteen fifties. They only recently got a high speed hand piece. Most of their work is done with old belt driven slow speed hand pieces.
There are very few water buffalo in the South now, they have been replaced by tractors. In contrast to the South, water buffalo continue to be the main means of cultivating the rice paddies in the North and consequently you see many of them up there.
If you go to Vietnam, make every effort to stay in a hotel that is a joint venture between some privately owned corporation and the Vietnamese government. The Government owned and run hotels are very poorly serviced and not the best places to stay. Adequate, but problematic.
There is now electricity throughout almost all of Vietnam. Most people try to live near a main road (within a couple of hundred meters) so that they can have access to the electricity. If there is electricity, there will be a TV. All channels carry government operated networks, so the Communists have a tight grip on what is broadcasted throughout the country. A satellite dish will, of course, bring in some international channels such as CNN, BBC, and etc. Most people cannot afford the satellite dish however so they hear only the Vietnamese networks.
The Vietnamese diet is very heavy in fats. Lard is a cooking staple as they do not eat large portions of meat. Nevertheless, they eat a lot of vegetables, fish, noodles and of course rice, often fried in grease.
80 % of the Vietnamese are Buddhists, about fifteen percent are Catholic and the remaining are "whatever" Most Catholics live in the south where they settled in after the French were run out and the DMZ was established. They are just now being allowed to reopen their churches as most were shut down after reunification. Uncle Ho was a practicing Buddhist and apparently not to fond of the Protestants and Catholic religion.
In 1977, the old Ben Luc Bridge was hit by a ferry boat which forever dropped it in the water. It was replaced with the aid of American money as was the bridge at Tan An. As I mentioned earlier, the old Tan An bridge is still present.
My guide in Can Tho told me that all the old mines and booby traps were disarmed or removed in the two to three years following the end of the war. On occasion an unexploded piece of ordinance is still found at construction sites, but rarely are people hurt any more. For a few years, the locals used to collect old shell casings, pieces of shrapnel and often, unexploded bombs to sell for the scrap value. Obviously, this is a dangerous occupation and many were injured when they tried to move them.
I saw no Amerasians in Vietnam. It appears to be a homogeneous society in terms of ethnic origin now. The Vietnamese government rounded up all Amerasians in the eighties and turned them over to the Americans to bring back to the states. Most of the Chinese business men were pretty much forced out of the country soon after reunification.
You see some older men (our age, or on second thought, lets make that middle aged men) with amputated limbs, but not as many as you might think. Some also have facial and body scars. Some are beggars in the areas where tourists frequent. I would always give them a few bucks when I saw them. I did see one man with both legs amputated just below the knees. He was wearing kneepads and was weeding his rice paddy in the North. I admired him for his tenacity and work ethic. In both the south and the north, there is a disproportionately low number of men in their middle to senior years. They
lost one hell of a lot of their male population during the generation that matured during the war years. The fact that there were a lot of young men around was noticeable by me.
Mr. Ba told me that after reunification, when Vietnam invaded Cambodia, no former South Vietnamese soldiers were allowed to be in a combat role in the military. No guns for them. The exception to this was that former helicopter pilots were conscripted, as only they knew how to fly the old US Army choppers. Also, former artillery officers were brought back in as they were proficient in setting up and firing the howitzers we left behind. Apparently they were significantly more accurate than the artillery pieces they got from the Russians.
Many old B-52 bomb craters are now commercial fish ponds.
Remember those old palm leaf thatched hooch's? The roof will last for about three years and the walls last about five years at which time they usually replace the whole structure. They are not built for longevity.
Foreigners are not allowed to own property in Vietnam. All business's are joint ventures and must share their profits with the government. They may build manufacturing facilities on Vietnamese land but do not own them.
You rarely see any Vietnamese wearing glasses. Some often put mine on and looked through them. I don't know what they expected to see, but they always shook their heads and hand them back to me.
Once again, as in 68, the malaria pills I took every Saturday ended up as a "passing experience" on Sunday.
One thing that is absent in Vietnam today is the smell of the pesticides they used to spray around the outside of our barracks and the smell of burning shit. No more piss tubes either.
When the Americans left Vietnam, they took the four sky crane Helicopters and all of the cobra gunships with them. All sophisticated fighter planes were also taken out of country.
Most of the old Army dump trucks that were left behind are still running, GMC made a good product.
If you want to feel really rich, 100 US dollars converts to 1,475,000. Vietnamese Dong. You really feel like you are throwing big money around. Fifty-thousand Dong is roughly three dollars. Heavy bread over there. By and large everything you buy on the open market is very cheap. Non-hotel operated restaurants are very cheap and you eat really well.
I looked for evidence of agent orange related deformities in the general population but rarely saw anyone who looked like they might qualify. I would say the apparent incidence of human deformities is not unlike other third world countries I have visited. This could of course be in contradiction to the actual numbers showing defects, but publicly, I didn't see any superficial evidence of any major problems.
A new bridge will be built from MyTho to Ben Tre Provence in about two years and the approach from the MyTho side will be near Our old base camp at Dong Tam.
There are not a lot of rice paddies in Ben Tre as the salinity of the soil is not onducive to growing rice. There are lots of coconut trees though and they manufacture palm oil there. It used to be famous for the large number of VC that lived around Ben Tre.
During the recent flood in the Delta, old APC's were used to reach flood victims.
In Vietnam it is socially acceptable to pick your nose in public and to burp at will. Our coordinator, Miss Anh, did both rather frequently and she is a classy lady over there, so I know it is OK.
You rarely see Vietnamese women picking lice out of each others hair today. The only time I saw it happening was in the North.
Well, that about wraps up the little tidbits. If I have been redundant, please forgive me. I can't remember exactly what I've covered and what I haven't and I am too lazy to go back and check. It is my intention to get out photo's on the web sites in the next couple of days. Please be patient s these computers are not my strong suite and it will be a struggle for me to figure out how to do this.
Before I close, I should say that this has been a most important trip for me. I succeeded in burying the Vietnam thing in my mind for the last quarter of a century. On occasion I would talk about it, but for the most part I felt it was better kept in the dark. I took no names or addresses of comrades in arms when I left the Army, and truthfully, until a year ago never contacted anyone from those days. I had Lt. Rhett Perry's Charleston, SC, phone number on my desk for five years before I got the courage to call him. Rhett was my mentor as I replaced him as 2nd platoon leader when he moved up to Delta Company XO. He took me out on my first combat operation with the MRF. I really looked up to him then as I do now and appreciate all that he and Sergeant Earl Pelham taught me as a green Lieutenant. Thanks Rhett, and you too Pop, if you can hear me. And a very special thanks goes out to the members of my 2nd platoon, who were in my mind, the best the Army had to offer. I hope the world has been good to you since your return home. And for Lt. Mike Collins, the first platoon leader who died in 1980, what a shame Mike, you were a good friend. And finally, Lt Pierce Michael who was the Third Herd platoon leader and one of the board members of the 15th Engr. Bn. Association. I hope to see you Pierce, get in touch if you can. For the former Captain Harry Meeth, our company commander and whom I understand is now building Super Wal-Mart Stores around the country, please get in touch if you read this. It would be great to hear from you.
In closing, for any of you that carry the war as a burden, I would strongly recommend that you return to Vietnam. I know that for me, intellectually, I knew that the war was over and that things would appear different upon my return. However, in my emotional mind, I still somehow away from there with a real affection for the Vietnamese people, their culture and their beautiful country. I look forward to the day when the Communist government crumbles under it's own weight as I am sure it will. As for myself, I think that in spite of the "hard times" we all went through, my Army experience made me a much stronger, better man than I would have otherwise been. It gave me the financial opportunity as well as the maturity, worldly wisdom, and self discipline for which to acquire the college education that would otherwise have been out of my reach. For that, I am grateful.
At the risk of sounding sappy, let me conclude with this:
Do not let the dragoons of your past reside in the dark corners of your memory, but rather seek them out and slay them. Consider returning to Vietnam as I have done.
1 Lt. Charles W. Houghton, CE, US Army, Ret.
PS. For anyone interested in talking to me about a return trip to Vietnam, drop me an Email at : cwhoughton@aol.com