John Silvasi
60th Regiment (Go Devils)
9th Infantry Division
1945



John and I met accidentally about a week ago (11/22/2007) and he subsequently forwarded the following to me for posting.

John was line infantry from Anzio to the Rhineland (1944-1945) with the 45th Infantry Division, 157th Infantry Regiment before joining the 60th Infantry Regiment of the 9th Infantry Division in mid 1945.

This letter accompanied his photos and articles:

Dear Richard,

It was quite a coincidental occasion on meeting you - spying the 9th Division insignia of which I had made many while with Col. Westmoreland in occupied Germany. We , young colleague and I were designated as "Training Aides" for the 60th Regt. We did poster work for GI events (From Aug. 1945)

I designed the banner for the weekly 60th Regiment newspaper, a number of times plus a gag cartoon. When I first started this work other GIs were doing the 60th insignia wrong and I called attention to this discrepancy to Colonel Westmoreland and my buddy and I were called down to the Headquarters to check out the design from the original.
I corrected the error and noted it in 60th Infantry weekly newspaper. The Colonel then asked me to do the insignia for the Regimental stationary, which I did in color - Q.E.D.

I am enclosing the banners for the newspaper and some of my cartoons. Anything for a GI gag. This covers up to Thanksgiving 1945 (the night before I had enough units to return stateside. However, I had already done the Thanksging and Christmas card design - although I never saw the proofs while with the Regiment. The office in charge of our workshop sent me the results after I returned home.

We were involved with doing other special artwork for Westmoreland. I was happy to have my original work sent back to me,

Yours Sincerely,
John Silvasi


This is an article from the July 1948 Newscaster about John Silvasi. It includes some of his cartoons from 1945.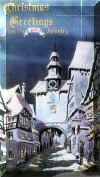 Thanksgiving cartoon and Christmas card designed by John Silvasi
The final photo is John's first "Dulafs" cartoon in the July 1, 1948 publication of the Newscaster.







The four page weekly newsletter for the 60th Infantry Regiment, September 8, 1945.
The banner and the cartoon on page 3 by John Silvasi.

Webmaster Note: The Go Devil designation was retained by the 3rd Brigade, 9th infantry Division during Vietnam. The AAA-O designation (Anyone, Anywhere, Anytime bar None) was retained by the 39th Infantry as AAA O . See page 4 above for reference to AAA-O.




60th Infantry Regiment crest by John Silvasi as approved by Col. Westmoreland.




Another "Go Devil" banner designed by John Silvasi




John Silvasi at the Saunderson museum in Chadds Ford, PA circa 1985. John is a life member and on the Board of Directors.