Photos Courtesy of
Captain (Retired LTC) Tom Newsham
-1968/1969-
Page 2





1 - Sniper Range north of the Dong Tam North Berm (view looking south) 4/69
2 - Enlargement of first photo
3 - BG Gunn (Assistant 9th Division Commander) views Sniper Range berm construction. CPT Newsham on left and BG Gunn in the center with hand on his hip, 1/69
ON 26 March 1969 the Dong Tam main ammo dump was hit and exploded. Numerous sources put the amount of ammunition that exploded that night at 1,000,000 pounds. I, your webmaster, was in a bunker approximately one mile north of the ammo dump. I happened to be looking up at the ceiling (which was packed with three foot of earth and had a building atop of it) when the main explosion occurred. The ceiling rose up from the concussion and settled back down amid some dust. Would have sworn we took a direct/near hit from a 122mm rocket.
While many were wounded I believe there were only 2 KIA as a result of the explosion. While it is true that only 2 were KIA, it is hard to believe after viewing the photos below.
All photos, except as noted, where taken by CPT Tom Newsham the morning after the dump exploded. CPT Newsham (B Company, 15th Combat Engineers) was tasked with assessing the damage.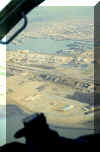 1-1 Wide angle view looking NE. The main ammo dump is hard to see in this photo but it is a long series of cells running east/west between the Navy Basin and the Song My Tho. The cell berms were around 25 feet high and close to 75 feet wide at the base.
1-2 Better view of a section of the ammo dump. There appears to be 5 blown cells in this section of the dump. View looking NW
1-3 Enlargement/rotation of a section of the previous photo. View looking north
1-4 Enlargement of photo #2 showing "Seawolves" area. It is easy to see why they took so much damage





2-1 Low angle view of most easten section of the ammo dump. View looking north
2-2 Enlargement of cells from previous photo. There appears to be another 4 to 5 cells blown
2-3 View of buildings east and just south of the ammo dump. Some of these buildings can be seen (lower right) in photo 1-2 above. View looking NNE
2-4 Damage to other Navy buildings




Damaged Navy Seawolf helicopters. In the 3rd photo you can see what appear to be 105mm artillery casings laying on the ground





4-1 Slight enlargement of the photo directly above. Looks like a 50 caliber MG with the belted ammo still intact. Also looks like some 40mm grenade rounds on the ground
4-2 Debris from explosion. Typical for areas nearby the ammo dump
Last two photos are of the Fuel Storage area. The photos show a developed dated of March 1969. Other photos posted on the web site would indicate that these photos show some of the damage done on 2/23/69

Go to Page 3 of Tom Newsham's photos
Return to Page 1 of Tom Newsham's photos
Return to Dong Tam photos