C Company, 15th Engineer Battalion
World War I
Photos and Documents Page1
Go to Page 2





Photos 11/11/2011 of the Oakmont Plaza (PA Turnpike plaza north of Pittsburgh, a food stop) Near where the 15th Engineers where formed in 1917

Many thanks go to Patricia K. Arndt from Swissvale, PA for all the information on this page and all associated pages. Patricia is the daughter of Tom Knight pictured below. Tom Knight was a member of C Company, 15th Engineer Battalion during WWI





My father, Tom Knight, with his sister (right) and a girlfriend (left).
Taken at Camp Gaillard above Oakmont , PA.
Patricia has supplied a copy of a 107 page history of C Company, 15th Engineer Battalion during WWI that will be posted here over the next week (12/8/08 - 12/14/08). This document was compiled and printed in the mid 1930s by George Archbold (Patricia's best guess).

To read the history of C Company, 15th Engineer Battalion during World War I go to:

History of C Company During WWI

Roster of the entire 15th Battalion 1917-1919, compiled in 1949. It includes known addresses, those who are deceased and those who went AWOL.

Excerpts from the C Company WWI document:
A Soldier's Diary and the Initial and Final Roster of C Company, 15th Engineer Battalion from 25 May/June 1917 when the Battalion was activated and 15 May 1919 when the Battalion was deactivated.


Patricia informed me that there is a memorial to the 15th Engineer Battalion at the Oakmont exit of the PA Turnpike (above Pittsburgh) and that she will get photos of it soon.




Patricia Arndt's letter to me dated 28 November 2008

Below are some photos from Patricia. Most photos have no caption and there is no one alive to identify who are in the photos.








1. Surveying before laying rail
3. The trenches
4 & 5. The 15th returning home to Pittsburgh PA, May 1919





1. 5th Avenue, Pittsburgh, May 1919 Coming Home Parade. The 15th is back!
2. Thomas Knight's Enlistment Paper
| | |
| --- | --- |
| Shoulder Patch: Advanced Section [A.S.] of the Services of Supply | Pin from campaign hat |
| | |
| | |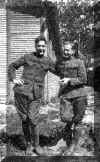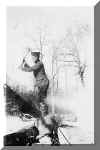 No names or locations. Most likely all photos were from France

Webmaster note: I asked my oldest son, Michael, USMC, to comment on the last photo above. Here is his reply.

Dad,

The rifle is indeed the Model 1903 Springfield. Aside from the camp setting, you can tell this is a staged photo as the rifle still has its front sight cover on and the rifle sling is slung tight. Also, he is looking down the sights as opposed to sighting in. Actually, there are many tells that this is a staged photo...I won't bore you with them all. It is a good photo nonetheless.

I do believe that the Doughboy has a German bayonet tucked in his belt. I am not 100% sure of this, but the length looks good and the grip does, too. I don't collect WWI German stuff, so I do not know for sure and I am making a somewhat educated guess.

A note on the Springfield - if the photo in question was taken in France, the Doughboy is one of few to actually retain his M1903.

The Model

1917 Enfield served in far greater numbers during WWI than the Springfield did. Only the Marine Corps retained virtually 100% of their M1903 rifles while in the trenches. As a side note, there is quite the argument over what rifle Sgt. York used...his diary/letters states that he turned in his

Springfield

for a "British rifle". He did not like it much, it seems. The "British rifle" is the Model 1917 "Enfield".

Anyway, there you go.









Company C Tom Knight-France Groups 1, 2 and 3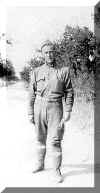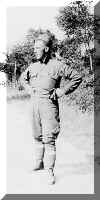 Lieutenant Fredrick P. Karns Red Cross Hut





Go to:
History of C Company During WWI
Excerpts from the C Company WWI document
C Company Album 1969